When I was a little kid, my grandfather had lung cancer.
I remember visiting grandpa in the hospital.
He was sick and coughing.
Not like I remembered how he was before.
Happy and laughing.
Making jokes while he held me on his lap.
It was awful that he got sick.
But one organization that is trying to help prevent people like my grandpa from getting sick is the American Lung Association® (ALA).
And according to them, many cleaning supplies and household products are toxic.
Some products release dangerous chemicals, called volatile organic compounds (VOCs).
VOCs, and other nasty chemicals can be released from these dangerous cleaning products, contribute to chronic respiratory problems, allergic reactions and headaches.
These toxic cleaning products can irritate our eyes or throat, cause headaches and other health problems.
Including cancer.
The ALA mentions some of the cleaning supplies and household products containing VOCs and other dangerous can include, but are not limited to:
* Aerosol spray products, including health, beauty and cleaning products,
* Air fresheners
* Chlorine bleach
* Detergent and dishwashing liquid;
* Dry cleaning chemicals;
* Rug and upholstery cleaners;
* Furniture and floor polish; and
* Oven cleaners.
They also mention that you should NEVER mix bleach with anything containing ammonia.
The gases created from this combination can lead to chronic breathing problems and even death.
Seriously.
Read the whole article here.
Why would you ever use this stuff around your home?
There is a better, safer, cheaper way.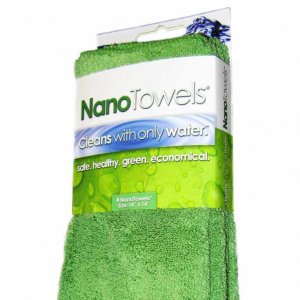 The Nano Towels® .
Nano Towels® clean with ZERO toxic chemicals that can make your family, friends, and pets sick, and harm the environment.
Nano Towels® also not only eliminate those expensive cleaning products, but also the need to purchase expensive paper towels.
That saves you money.
Saves your health.
And helps to protect the environment.
Only that, if you don't ABSOLUTELY love your Nano Towels® , just send them back within 30 days for a complete refund.
You have ZERO risk.
And EVERYTHING to gain.
So, why not give the Nano Towels® a try?
Thanks again!!
Marc.
– Brought to you by
Life Miracle.
www.lifenatural.com